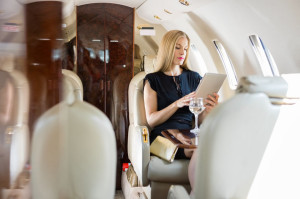 Will you be making a business trip soon by air? If so, you should check to see if your state-issued driver's license is approved as a federal ID. If not, you may not be allowed to board your flight.
Take a look at your driver's license. Does it say "not for federal identification"? As of October 1, 2020, the Real ID Act will require air travelers age 18 or older to have a REAL-ID-compliant form of identification. An ID that is REAL ID-compliant will contain a star in the upper portion of the card.
The REAL ID Act is not new. It was initially enacted in 2005 after the 9/11 attacks to increase security at U.S. airports. If your ID does not have the star, it's possible that your state-issued driver's license does not meet the requirement for a federal ID. Without a federally approved form of identification, under the law, you cannot board a federally regulated commercial aircraft.
New signs at airports remind travelers that
they must have a REAL ID-compliant license or another acceptable form of ID (valid passport, PIV card, U.S. military ID) to be permitted to board and fly.
You can check with your state's driver's license agency to find out if your driver's license is REAL ID-compliant. If you need to obtain a REAL ID-compliant driver's license, you will have to provide additional forms of identification to the Department of Motor Vehicles of your state such as an original birth certificate, social security card, proof of residence (utility bills with name and address), etc.
You should note, however, a REAL ID is not a substitute for a passport for international travel. A state-issued driver's license that is not federally approved as a form of identification is still fine for other types of identification, just not for flying. You can visit this link for your state's Department of Motor Vehicles to find out more information.
Learn more about Manning Insurance Services' Travel Insurance.